Electric Chain Hoist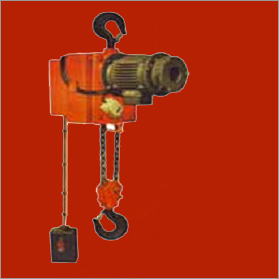 Electric Chain Hoist
Product Description
With a vision to be a pioneer in our domain, we are emerging as one of the leading manufacturers and suppliers of Electric Chain Hoist. It is an advanced system designed for a variety of industrial applications such as in foundry duty, molten metal pouring, and other various uses. Basically, it is a material lifting equipment that is widely known for its efficient lifting mechanism and optimum performance. Compact headroom, hook suspension and a range of other features make it ideal for your specific workstation needs. Electric Chain Hoist comes in different power specifications as per client's requirements. It is also provided with electronic overload protection and slack chain control.
The hoist is a device that lifts and lowers loads. It is a drum or a wheel around which a rope or a chain is draped. This assists in lifting. The hoist can be driven manually, electrically, or pneumatically. The best quality electrically driven hoist for your industrial needs is available at Bhagirath Heavy Transmission India. When compared to manually operated hoists, electrically driven hoists have higher capacity and easier operation. Hoists may also use chains, ropes, or fibers as lifting devices. To lift something, a lifting hook must be attached to the wire.
It is important to choose an electrically driven hoist that has a few features to satisfy your needs. Most electric chain hoist manufacturers provide options for hoists that should possess certain qualities. A chain must be able to be integrated into the system of your choice. The overhead bridge crane, construction crane, bridge crane kits, rail system, and sometimes a Jib Crane or Gantry Crane stand alone unit are a few examples. Trolleys that are free to move make electric hoists highly efficient. Ideally, there should be low resistance between the beam girders so that the load is easy to move.
Range & Features of Electric Chain Hoist :
A single-phase hoist, as well as three phase hoists, are available.
In all models, two speed and three phase hoist motors are available with controls.
The LM05 and LM10 models have single speed and three phase control motors, which can be connected to power sources such as 208, 230, or 460/3/60.
We have a single speed hoist that can be powered by 115 volts.
We offer insulated three-phase motors in Class F. Hoist motors in this class are rated for 50% effective duty.
Control panels for trolleys that are integral to the motor.
You can depend on ISO certified products to perform your everyday tasks efficiently.
Product details

| | |
| --- | --- |
| Color | Yellow |
| Chain Length (meters) | 2-4 ,4-6 |
| Trolley Option | With Trolley,Without Trolley |
| Capacity | 1-3 ton,3-6 ton |
| Brand | BHT |
| Capacity(tons) | 0-1 ton, 1-3 ton, 3-6 ton |
| | | | | |
| --- | --- | --- | --- | --- |
| Capacity in Kg | 500 | 1000 | 2000 | 3000 |
| No. of Fall | 1 | 1 | 2 | 2 |
| Hoisting speed Mt/Min. | 5 | 5 | 2.5 | 2.5 |
| H.P. of Motor | 0.75 | 1.5 | 1.5 | 1.5 |
| Closed Ht. Hook to hook | 750 | 775 | 780 | 780 |
| Clear width | 250 | 250 | 250 | 250 |
| Clear length | 550 | 570 | 575 | 575 |