Electric Crab Hoist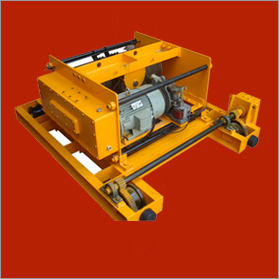 Electric Crab Hoist
Product Description
ELECTRIC CRAB HOIST
The Bhagirath Heavy Transmission company is a leading provider of material handling equipment, including hoisting crabs. We strive to keep up with the ever-evolving technological landscape by introducing a quality combination of innovation, expertise and excellence in all of our material handling products. For many years, we have served this industry with a variety of products and provided international design parameters by hiring experts in this field. Using our high-end technological products, our clients will be able to work efficiently and, in turn, increase their efficiency levels at all levels of their industry verticals. Across 40 countries in the Middle East, Asia, Africa coast and Central Europe, our products have reached the unreachable corners. The superior quality products are put to best use in various industries such as construction, forging, automobiles, metals, steel fabrication, die casting, as well as rubber, foam, textiles, leather and air-conditioning. We are emerging as one of the fastest growing companies engaged in manufacturing and supplying Electric Crab Hoist. It is used over double girder EOT cranes to lift the loads and materials. Our dexterous workforce uses quality grade mild steel and cast iron to manufacture this hoist. It is a hoist for dual runway girder systems, can travel on its own with motorized unit. Suitable for lifting applications in construction and mining industry, this Electric Crab Hoist has the potential to bear bulk equipments and still function flawlessly. It is capable of handling extreme load without compromising with performance and speed.
The following are key features of our Electrical Crab Hoist products:
Constructed to last
The ability to resist wear, rust, and climate change
The maintenance requirements are low
Stability in the long run
The ability to perform at a high level and work efficiently
A great deal of functionality
IS 3938 standard guidelines for safe operation
A reasonable price range
The product capacity ranges from 1 ton to 50 tons
Modulation of speed in accordance with customer specifications
Electrical crab hoist equipment we provide serves a broad customer base with the following benefits:
Steel welded construction of the crab frame for long-term durability
Optimal product weight and rigid Torsional support for high productivity
Wear free travel wheels in large sizes
Designed with a sturdy corner bearing
Accessible footrails and railings for easy access to crab frame
Shipment of containers is simple
Containers arrive fully equipped, assemble, and on time
Easy to assemble
Supported by welded crossbeams
All motor components are thoroughly checked for functionality
A similar travel unit design is used for the crane and carriage
Ideally, the number of interfaces should be minimal in gear boxes, drums, motors, and brake units
We at Bhagirath Heavy Transmission India cater to the growing technical needs of our customers by manufacturing all of our products in accordance with the specified industry standards. Through quality products, we strive to establish lifelong relationships with our customers.
Range & Features of Electric Crab Hoist:
Modern machine
Safe operation as per IS 3938
Economical
Capacity: 1 Ton to 50 Tons
Speed as customer required

Specifications of Electric Crab Hoist:
Capacity: 1 Ton to 50 Tons
Lifting Height: 6 mtr to 50 mtr
Speed: 2 mtr/min to 12 mtr/min
Product Details
| | |
| --- | --- |
| Capacity(tons) | 0.5 up to 50 ton |
| Trolley Option | Without Trolley |
| Chain Length (meters) | 4-6,8-10,6-8 |
| Brand | BHT |
| Capacity | >15 ton |
Technical Details