Electric - Manual Winch Machine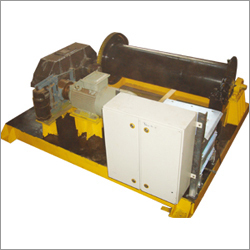 Electric - Manual Winch Machine
Product Description
With optimum capability and rich industry expertise, we have been able to emerge as a trusted manufacturer and supplier of Electric - Manual Winch Machine. This machine has totally enclosed gearbox with precision machine cut gears and pinions. We manufacture this machine under the firm inspection of expert supervisors using best quality mild steel and cast iron. It is ideally suited for installation on cranes, davits and derricks. Electric - Manual Winch Machine is provided with anti-frictional bearings on all high-speed rotating parts. Offered winch is used in dockyards, construction sites and warehouses for lifting materials. It also comes with durable hook safety snap for keeping the loads attached.
Electric/Manual Winch Machine
BHT India designs manual and electric crab winches in compliance with IS-9507-1979. These are suitable for extensive and widespread usage.
Our Winch Machine specifications are listed below; both manual and electric:
Frame Made of MS plates accurately and precisely ground with chequered plates to ensure solid bedrock. As the operating area and solid bedrock, it can also be built from I.S.M.C. or C Sections.
Design Power-driven winch machines are built to IS-9507-1979 standards and are suitable for large-scale and heavy-duty applications. Depending on the client's needs, we can manufacture manual winches with auxiliary utilities.
Gear boxes When making reductions, helical reduction gear boxes or open spur gears and pinions are used.
Rope Drum Drum made of steel that has been properly fabricated, with flanges provided on either end.
Winding Capacity Wire ropes are usually 100 metres long. A drum with a greater capacity of winding is also possible upon request from our clients.
Motor A.C. Induction, Exceptional Initial Torque, Class 'B' Covering, 110 Starts/ Hr at 415V, 50Hz frequency, 3-phase, Squirrel Caging in accordance with IS-325.
Control and Control Panel At 110Volts, the winch is controlled by a push-button controller or station which is mounted on the machine. Control apparatus such as triple pole reversing contractors, high resolution controllers and pilot lamps are made by renowned manufacturers such as ABB/BCH/SIEMENS.
Brake Our clients can choose either electromagnetic, electrohydraulic thruster, or double shoe type brake or hand operated brake. Our machines have been tested at an overload of up to 25 percent. Our company provides a 12-month warranty, starting from the date of delivery, in case of any manufacturing defects. The company reserves the right to develop new products without advance notice.
We have provided high quality assistance by providing top-class hoisting and materials management solutions. The products are fabricated so that they have low load on the wheels, are light, and have low fracture rates. Diverse industries and businesses have relied on our superior range of products to aid in operations and improve labour efficiency.
Specification
| | | | | | | | |
| --- | --- | --- | --- | --- | --- | --- | --- |
| Capacity in (Tones) | 1 | 2 | 3 | 5 | 10 | 15 | 20 |
| Drum Dia (mm) | 160 | 160 | 215 | 215 | 270 | 355 | 400 |
| Drum Length (mm) | 300 | 400 | 500 | 560 | 800 | 1000 | 1200 |
| Flange Dia (mm) | 285 | 380 | 400 | 500 | 600 | 750 | 900 |
| Height A (mm) | 490 | 610 | 730 | 960 | 1140 | 1440 | 1700 |
| Width B (mm) | 360 | 480 | 530 | 680 | 965 | 1140 | 1300 |
| Length C (mm) | 600 | 750 | 900 | 980 | 1300 | 1700 | 1900 |