Electric Wire Rope Hoist Machine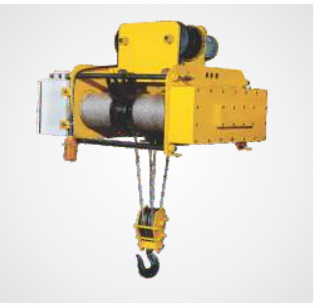 Electric Wire Rope Hoist Machine
Product Description
Electric hoists we deal in is provided with advanced operation. It allows for a comfortable lifting of objects. The heavy loads can be moved and managed efficiently and rapidly. These have quietly operation and keep the workplace comfortable and more enjoyable. The heavy items can be lifted and moved with ease. Electric hoists improves the level of productivity in various workplaces. These feature less moving parts and can do away with the wear and tear. If correctly inspected and maintained, these can serve for many years.
Electric Wire Rope Hoist offered by us is designed as per industrial standards that make it highly durable and capable to bear extreme working conditions. This material handling unit is capable to carry extreme loads and vibrations during the lifting of heavy engineering components. It requires a standard alternating voltage of 415 to 440 volts for controlled and efficient functioning. It is available in various designs with a wire length of between 2 to 10 meters. Buyers can get this industrial machine from us as per your demands at a reasonable and low price range.
ELECTRIC WIRE ROPE HOIST
Bhagirath Heavy Transmission manufactures a comprehensive line of electric wire rope hoists based on customer specifications. We design and manufacture products in a variety of capacities and we can custom design them according to your requirements.
Features that distinguish our products include:
Performance efficiency at high levels
High-speed efficiency is built into the products so overall productivity is increased
The workmanship of all manufactured components must be precise to ensure minimal losses
Operational levels
Ensured smooth operation of gears with machine-cut teeth and the option for heat treatment
All high-speed rotating parts on Hoists Products feature anti-frictional bearings.
Limit gauge testing for all machine components.
Maintenance is easy
Easy accessibility of all the hoist parts requiring maintenance
The minimum number of parts that require maintenance is included
Reducing downtime through easy replacement of worn parts
An inspection that is rigid
There is a scope for stern inspection at all stages of manufacture to ensure unfailing reliability.
Types of Electric Wire rope Hoist provided by us are:
Chain hoist
Flameproof hoist
Electric Wire rope hoist
Hoist for Curvature beams
High lift hoist
Electric crab hoist for double girder crane
Customised hoist as per the customer specifications
Following are the benefits of using BHT's electrical wire rope hoists:
Class II IS-3938 design for high quality.
A complete hoist system assembled from independent parts, including a gear box for hoisting, a motor with brake, a rope drum, an electric control panel, and a travelling trolley.
It is easy to access, has a low maintenance cost and reduced downtime.
M.S plates are fastened to our products with number studs so that they can handle the load of different independent units added to the product.
The hosting rope conforms to Indian standard 2266 with a factor of safety of six on the nominal breaking strength.
A drum with grooves and seamless pipe of a suitable length wound in one or two layers to provide the best support with minimal wear and abrasion.
A self-aligned roller bearing ensures smooth operation of the drum shaft.
A divided rope guide with proper drum encirclement allows for easy accessibility.
Motor conforms to IS-325-1970 with a 40% CDF rating in class B insulation.
Exceptional wear resistance for hoists. Gear box with bailer roller bearings to provide smooth and low friction operation and good lubrication.
Externally mounted electromagnetic safety brake.
Adjustable trolley for varying I beam sizes.
Limit switch is a safety feature.
Steel casting rope sheaves with protection.
Controlled by both electric and mechanical means
Repair and replacement guaranteed.
Types of Hoists:
Hoist for curvature beams
Chain hoists
Electric wire rope hoist

Electric crab hoist for double girder cranes
Flame proof hoist
High lift hoist
Any specified hoist for various applications
Special Features of Electric Wire Rope Hoist:
HIGH EFFICIENCY
Their high speed operation enhances productivity.
All components are crafted with precision to minimize losses and increase efficiency.
SHORT OPERATION
Precision machine cut teeth subjected to heat treatment ensure smooth operation.
All rotating parts of the hoists are fitted with antifrictional bearings.
Machined components are checked using limit gauges.
EASE OF MAINTENANCE
It is easy to access all parts of the hoists that require maintenance.
Minimum number of parts requiring frequent maintenance.
Easily removable and replaceable wear parts reduce downtime.
RIGID INSPECTION
A stringent quality control program at every stage of manufacturing ensures reliability.
Specifications of Electric Wire Rope Hoist :
Maximum Lifting Weight Approx. 16 T
Traveling Speed Approx 15 m/min
Lift Speed Approx 5 m/min
Product Details
| | |
| --- | --- |
| Application | Standard |
| Trolley Option | With Trolley |
| Rope Length (meters) | 4-6,& 10,8-10,6-8 |
| Wire Length (meters) | 2-4,0-2,8-10,6-8,4-6 |
| Capacity | 15 ton |