End Carriages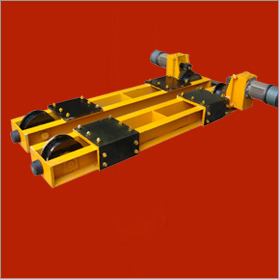 End Carriages
Product Description
We are famous amongst our customers as a trustworthy manufacturer and supplier of End Carriages. These are modular rail-mounted travel units can be connected directly on crane girders and load-bearing structures. To manufacture these carriages, our expert workforce uses quality grade mild steel and cast iron. These carriages consist of a torsionally rigid box section and complete travel units with motor gears & wheels. End Carriages are also equipped with anti-drop devices, storm protection, lateral guide rollers and rail guards. These are the best solutions for overhead travelling and suspension cranes. We make available these carriages for clients in different specifications as per their requirements.
The industrial sector requires products and machinery which can be used for lifting heavy objects. Industrial functions, construction, and other product factories require cranes, end carriages, and crab hoists. Every piece of equipment that is used needs to comply with all safety standards. Because safety is a requirement, it is wise to order the items from reputed companies since to maintain their goodwill, these companies ensure their products are of excellent quality.
Construction sites use end carriages extensively. They are of the greatest assistance when moving heavy materials from one place to another. It is imperative that the crane be able to handle heavy loads. The capacity of the crane determines how efficiently the carriage works. The carriage also needs to have a reasonable span. That way, materials can be accommodated comfortably inside. Material movement becomes easier and quicker. It is possible to choose from single girder, double girder or I beam type cranes for the end carriages. Wheel load is another important design factor. Finally, the carriage should have a high travel speed. Fast transport relies on this aspect of design.
Bhagirath Heavy Transmission India implements all of these features in its end carriages. Since the company was created, it has built a reputation for providing good quality machinery. With all these features, the carriage end is also safe to use. This has been well tested.
For design of end carriages, basic parameters are required:
1. Crane capacity
2. Span
3. Type of crane i.e. Single/Double Girder, I Beam/Box Type
4. Wheel load
5. Long travel speed
Basic design followed for crane end carriages:
1. The wheel center should be at least 1/5th of the crane's span.
2. The shock absorbers/buffers minimize any impact stoppage.
3. There are two types of wheels in one set of end carriages - one gear type and one plain type.
4. Gear wheels have gear drives
5. Depending on the bridge width and rail center, end carriage couple plates are installed.
6. Arrangements for the replacement of wheels at the site.
Product details
| | |
| --- | --- |
| Material | MS |
| Color | Golden Yellow |
| Brand | BHT |
| Capacity | 0.5 ton to 50 ton |
Specifications of End Carriages:
Operation Form: Remote Control
Material: Carbon steel, alloy steel
Weight: 40~250 Kg